Workshops
Vinyasa yoga (advanced Yang poses) & the Vishuddha Chakra with Moena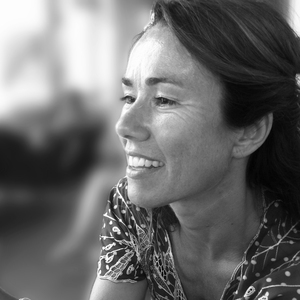 les wordt gegeven door
Moena de Jong
The Chakras are spinning wheels of energy, a storage place of Prana (lifeforce) when the harmony of Yang- and Yin is disturbed, we can experience a blockade that appears either physically or mentally. How Vinyasa yoga relates with the Chakras: our body counts hundreds of energy meeting points. When we talk about the Chakras, we mention the 7 main energy wheels where we develop our personality and spiritual growth. The order in a Yang (Vinyasa, Ashtanga, Hatha) sequence is based on the Chakra system

In this 7- folded workshop you will discover how each Asana group (e.g. forward bendings, twists, inversions, backbends) relates with a Chakra and which relationships in our lives combines with a specific Chakra. You will experience how yoga truly is a practice of purification. As our lives are based on different relationships (e.g: parents / friends / lovers / teachers etc.) We find out the importance, joy and challenges in all relationships. Just like our yoga practice can be challenging, both as supporting and healing.

To understand an Asana, we build up in all workshops in a progressive manner towards a peak pose with modifications so you can experience harmony and stabilization. To take a challenge in your Asana practice can help to remove accumulated energy blockades in a Chakra to move beyond the boundaries of the mind.

Pranayama will be part of this 7- monthly workshop to stimulate the energy body as like Mantras to illuminate all Chakras.

As each Chakra relates with an Asana group we'll relate every workshop with a different focus. This workshop is part of a set of seven:
Friday 13/9: Muladhara Chakra / standing poses / peak pose: Svarga Dvidasana (bird of paradise) > Click here
Friday 25/10: Svadisthana Chakra / hip openers / peak pose: Eka Pada Koundiyasana (flying split) > Click here
Friday 15/11: Manipura Chakra / twists / peak pose: Paravritta Bakasana (side crow) > Click here
Friday 13/12: Anahata Chakra / heart openers / peak pose: Vrischikasana (scorpio) > Click here
Friday 17/1: Vishuddha Chakra / shoulder stand / peak pose: Sarvangasana variations 
Friday 28/2: Ajna Chakra / balances / peak pose: Adho Mukha Vrksasana (handstand) > Click here
Friday 27/3: Sahasrara Chakra / headstand / peak pose: Sirsasana 1 & 2 > Click here

Would you like to join all 7 workshops > Click here

What you will get out of these workshops:
- Vinyasa yoga with build up to a peak pose
- Chakra philosophy to understand yourself and the other better
- Pranayama
- Mantras (the sound that resonates with each Chakra)

About the Vishuddha Chakra

The Vishuddha Chakra is the center of communication. Spoken words, with the emotions of the heart as a message. When the 5th Chakra is developed, the one who listens to it is touched in the space (Akasha) of his or her whole being. The pure content of the spoken words creates honest and clear communication. Vishuddha Chakra is the center of spiritual rebirth. It initiates Jnana (knowledge), Prana (life energy), Apana (air that cleanses the body) & Vijana (air that regulates blood). When the 5th Chakra develops, we feel the need for a simple, basic life and pure thoughts. We spend more time inside than outside and can communicate better on a non-verbal level as the energy is more refined. In an imbalance in Vishuddha Chakra, doubt and negative thoughts can arise. 

In Asana practice, supported shoulder stand has a positive stimulating and harmonizing effect on the 5th Chakra. Open communication with ourselves and others will unfold. 

"Satyam Bruyat Priyam Bruyat: speak sincerely and speak with sincere kindness"

This workshop can be in English or Dutch.

Date: Friday January 17th 2020
Time: 19.30 - 21.30 hr
Price: €25,-