Workshops
Advanced study (50 hr): Hatha, Philosophy & Mantra with Moena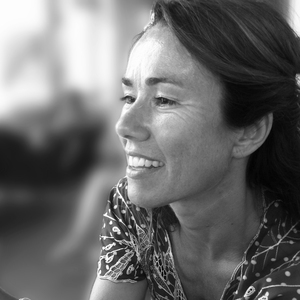 les wordt gegeven door
Moena de Jong
Hatha Yoga has it's ancient roots by the ethics of Buddha and sage Mahavir (who practiced yoga in the 6th century BC). As was discovered that this specific way of doing yoga needed more preparation: purification techniques, physical poses (Asanas) and breath techniques became more important. Nowadays Hatha yoga still is the "mother" of all yoga forms: Astanga, Iyengar, the more modern form Kundalini and many more. All find their origin in Hatha yoga.

HA stands for: Sun / masculine / uplifting.
THA stands for: Moon / feminine / grounding.
These polarities of energy come together. When they're unified Hatha yoga (union) takes place.

Sri Patanjali writes in his Yoga Sutras: Sthira Sukham Asanam: an Asana should be steady and joyful at the same time, which also relates with the balance of sun & moon energy to achieve Hatha yoga. The goal of Hatha yoga is absolute balance of body and mind. So Patanjali says in his second Sutra: Yoga Citta Vrtti Nirodhah. Yoga stills the fluctuations of the mind. Now Hatha yoga takes place.

Most important achievements of this Advanced study:
* You will learn to teach and practice a classical Hatha yoga class based on the structure of the Chakras
* You will learn modifications of more advanced poses
* You will understand how Hatha yoga Asanas have a positive and balancing effect on the body's constitution according the Ayurvedic philosophy of the Tridoshas
* You wil learn the Shatkarma Kriyas (purification techniques) and how to translate them to modern use
* You will learn Pranayama, breath techniques, the use of Bandhas and Mudras and how they dissolve energetic blockages
* You will learn yoga philosophy and how to translate that into your daily life

About Moena
Practicing and teaching yoga are an art, connecting to the heart. Moena teaches her classes the same way she loves to receive lessons: welcoming at all times, open to positive, transformative experiences. Aside from your unique individual experience of feeling more open and gaining a broader perspective on your possibilities, you feel the magic of a group synergy as the energy in class is uplifting and grounding
Moena is a certified Jivamukti teacher who started her teaching journey with Hatha yoga TT, based on the principle of Critical Alignment.
As much as Moena has a razor blade sharp eye for Alignment she loves the fluidity of music that flows organically with the movements. As she has a passion for the Sanskrit language, she also has a lifetime love relationship with Mantra's. What makes her classes outstanding is her convincement that being authentic makes eventually the journey of Self discovery such an interesting one.

Her quality is to make all unique and different individuals feel welcome and connected. Dare to be different and radiate in your weirdness is her biggest source of inspiration.
Since a few years Moena has been the lead teacher of several teacher training programs for Vinyasa and teaches Pranayama, philosophy and Mantra for Yin yoga TT. Her knowledge of alignment, philosophy, breath techniques, history and sequencing makes Moena one of the most experienced ladies in the field.



This study is in English. 

Dates: 25 - 29 March 2019 
Time: 09:00 - 17:30 hr 
Price: 525 eur ex VAT / 635,25 inc VAT

Do you want to combine your Advanced studies for a 300 hr Yoga Alliance certificate? CLICK HERE> for more information.